Eddy's Spotlight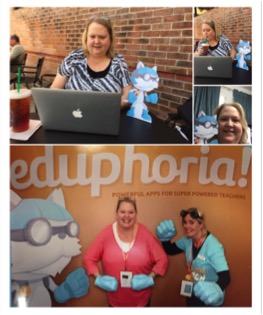 Hi there! It's Eddy again with another spotlight on one of our Eduphoria family members.
This time I am interviewing Paige Parker, one of our Eduphoria trainers.
Eddy: So Paige, what do you do as a trainer?
Paige: I get to travel to school districts and show teachers how Eduphoria can help them.
Eddy: That sounds pretty cool! I get to travel to school districts as well and I like meeting new people everywhere I go. How long have you been doing this?
Paige: I'm a rookie! This is my fourth fabulous month.
Eddy: What's your favorite thing about working here so far?
Paige: I feel like I'm still helping students and teachers by supporting them through Eduphoria. I believe in the applications and their power to help teachers use data easily and plan purposefully. Also, all the people at Eduphoria are fun!
Eddy: Do you have any pets? Kids? Favorite people that you share your life with? Who are they?
Paige: I have a four-legged kid--a terrier mix named Milo. He's the love of my life, and he has me well-trained.
Eddy: Again with the dogs! Why doesn't anyone have cats? Moving on.
Who was your favorite teacher in school and how did they impact your life?
Paige: Mr. Lindsey (Keith), my Algebra and Geometry teacher at LCM High School in Orange, TX. He was incredibly patient for those of us who were math challenged. I learned from his example that every student is different, and you need to find their learning style to help them understand the content.
Eddy: He sounds like a great teacher! Now, if you were famous, what would you be famous for?
Paige: Gee, I thought I was famous. I've been on Romper Room, had lunch with Don Henley, and been in an Aerosmith video. (It was for the song Blind Man, which no one has ever heard of, and I was with several thousand of my closest friends. )
Eddy: Hey that's pretty cool! How do you like to spend your free time?
Paige: I love to read, watch movies, and go antique-ing. I would LIKE for my free time to be spent traveling. Maybe someday...
Eddy: What's the one movie you could probably quote every word to?
Paige: The Princess Bride
Eddy: Oh, that movie is too scary for me!
Paige: Scary? How so?
Eddy: Those Rodents of Unusual Size! I can chase mice all day, but they are usually computer mice.
Eddy: Who is your hero and why?
Paige: Right now, it's my mom. She just went through cancer surgery at age 86, and she was a trooper. I am so in awe of her strength and courage.
Eddy: Wow, I can see why she is your hero. What TV show would you like to live in?
Paige: Downton Abbey, as long as I can be part of the upstairs group!
Eddy: OH! Have you seen Downton Tabby? It's fantastic!
I had a great time hanging out with Paige and I think she is a super fun addition to our Eduphoria family. Also, she promised to check out Downton Tabby, so I overlooked the fact that she didn't have any cats.