Eddy's Spotlight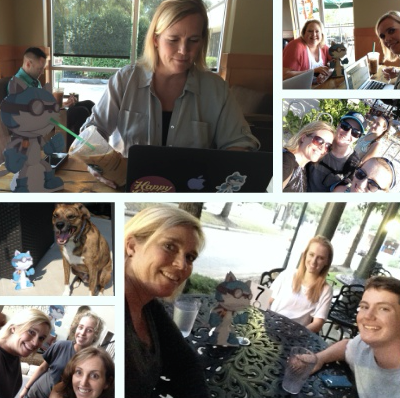 Hi, My name is Eddy and yes, I am a cat. Some people mistake me for a hedgehog, but that's just rude.
Anyway.
I've been traveling around meeting lots of new people in different districts and that has been super fun, and now I think it's time for me to also get to know some of the people I work with. So, I decided to start Eddy's Spotlight… a series in which I spend some time with a few of my friends at Eduphoria. So sit down and grab your coffee - it's time to chat.
My first interview is with Shanna James, our Training and Implementation Specialist and self proclaimed "Social Media Queen". She has been a part of the Eduphoria family for about three years and I like her immediately because she shares her coffee with me.

Eddy: So Shanna, what exactly is a Training and Implementation Specialist?
Well, I work with school districts and offer training to teachers and administrators, and I help them implement our applications in their district. Aside from that I work on special projects within the company, like marketing and testing new applications… there is a lot of great stuff going on here at Eduphoria!
Eddy: Do you have any pets? Kids? Favorite people that you share your life with? Who are they?
Shanna: Yes, I have all of those… I am lucky enough to live with all of my most favorite people in the world... my twin teenagers, my best friend and partner in life and her two girls... AND of course my dog, Zeus!

Eddy: A dog….really? No cats? (sigh) What's your favorite thing about working at Eduphoria?
Shanna: Well, besides the amazing people I work with.... I love the super laid back atmosphere and getting to travel around and meet with people at school districts all over.
(I try waiting to see if she mentions me, but she only smiles and reaches out to scratch her dog behind the ears)

Eddy: What's the one movie you could probably quote every word to?
Shanna: Oh that would definitely be Monty Python - The Holy Grail
Eddy: Who is your hero and why?
Shanna: Hmmm.... that's hard to say because I have so many!
My dad - because he had the kindest and sweetest heart of anyone I have ever known.
My dog - he's my dog hero... I think all dogs have healing powers!
My kids - because they have fulfilled my life in ways that they will never even know.
My best friend - For too many reasons to list.
Anyone that teaches with a true passion.
Pretty much, I think everyone at one point and time in their life is of hero status... so that should cover it.
Eddy: How do you like to spend your free time?
Shanna: I like to be outside - mostly on my patio or sitting at a coffee shop! I love hiking, camping, kayaking, bike riding... and riding our scooter! Oh, I also LOVE to travel!
Eddy: What did you eat for breakfast this morning?
Shanna: A smoothie
Eddy: Did it have tuna fish in it?
Shanna: Absolutely not!
Eddy: You should try tuna fish in your smoothie!
Eddy: Okay...If you were famous, what would you be famous for?
Shanna: Finding lost things!! Oh and making any piece of technology work.
Eddy: What fictional place would you like to visit?
Shanna: Hogwarts Castle
Eddy: Are there cats there?
Shanna: I don't seem to remember there being cats. Oh, but there was a three headed dog!
Eddy: I give up. What tv show would you like to live in?
Shanna: Modern Family for sure. I can totally identify with the craziness!
Eddy: Really? Have you ever seen Tom & Jerry?
Shanna laughs and doesn't answer the question. I have a feeling she really is one of those so called "dog people". The whole dog thing aside, I have to say that my time with Shanna was pretty cool and I even took a photo with Zeus before the day was over.